Custom Stairs & Railings
A Step Up For Your Lifestyle
New Construction & Renovations
Welcome to Affordable Stairs in London, ON
Beautiful, Affordable Stairs & Railings
Affordable Stairs & Railings builds custom stairs in the London Ontario, Grand Bend, Stratford and Goderich region. We incorporate various elements to give our customers function, style, and design that ascends their expectation.
When creating and designing stair and railing systems we work with oak, maple, pine, mahogany and spruce. We are committed to providing our customers with quality craftsmanship and exceptional customer service.
As a family owned and operated London stairs & railing business, we work closely with home builders, developers, and homeowners to design to stairs that are attractive and affordable.
From the initial product selection and design to the actual installation we will make the entire experience easy and hassle free.
Our Design / Installation Process
Consultation – We begin by meeting with you to determine what you envision. We will take measurements of the space for your new stairs and discuss options available to you.
Design & Build – One we have the design in place, we get to work on selecting the correct materials and building your new staircase. We proceed carefully with great attention to detail.
Delivery & Installation – Once our craftsmen have completed your new staircase we deliver it to you, and if needed, we will install it for you.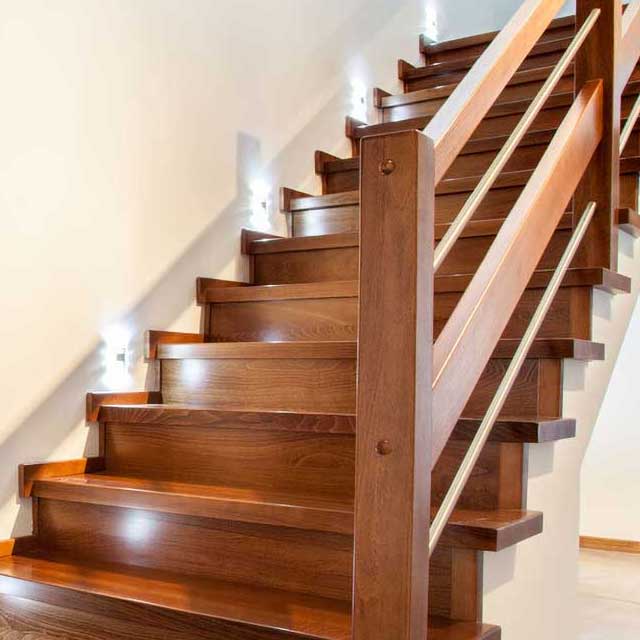 Staircase Gallery
Choose solid wood elements, or combine wood with metal rail posts for a unique look. Create a traditional look with turned or pre-manufactured wood spindles. A more modern style can be achieved using smooth-line wood spindles or metal uprights. Wood elements are available in a variety of species including hardwood and spruce.
What Our Customers Have To Say …
Our new stairs and railings look amazing! The style and functionality turned out better than we had imagined. After showing Peter our ideas he suggested some modifications which greatly improved the overall look. The entire team at Affordable Stairs & Railings were professional and courteous. We are very pleased with the quality of their work.
Keven & Anna
We had them design and install new stairs and railings and are very pleased with the results. They ran into a few issues from previous construction/installers but came up with a solution that worked out well. Their high quality work shows in the finish produce. Thanks Peter for making our home look amazing.
Joyce McFadden
Peter and his crew have been designing and installing stairs for us on numerous occasions over the past 3 years. I can't say enough about the level of craftsmanship and attention to detail his team consistently performs. Never any surprises. We love working with them and highly recommend them!
James Russo
Wonderful work! Affordable Stairs & Railings did an awesome job, took the stress out of everything. Knowledgeable and friendly staff and excellent craftsmanship! Very impressed with the quality of their work!
Terry Homes